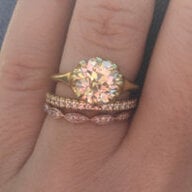 Joined

Mar 20, 2003
Messages

3,376
Well, I had horrible luck with two Haier ultrasonic cleaners (they basically disintegrated, fell apart at the seams,
both
of them), so I decided my problem was not spending enough and I went with the Sharper Image. And guess what . . . it started seriously smoking! It didn't shut itself off, and I forgot to check on it. When my husband went to investigate the unusual noise it was making, he found it smoking. I had filled it and used it correctly. The smoke came out for several minutes and the smell never really went away. Needless to say it didn't work after that.
That said, Sharper Image has been really great with the return. I didn't have my receipt and it was past the 60 day return policy, but I emailed them, and they just emailed back a UPS mailing label for the return. I'll receive a refund once they receive it since apparently they no longer sell that exact model. After DH and I move in a month and things are settled down I'm going to order another one. I don't think there's anything inherently wrong with the SI model; if anything, the problem seems to be with
me
and my "smokin' hot" jewelry

. . . three years ago I burned my kitchen down!
So now all I have to clean my beauties is a little jar of Connoisseurs.