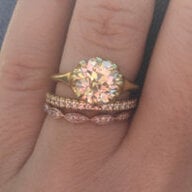 Joined

Mar 20, 2003
Messages

3,376
DH and I live in a 700 square foot condo. In the past we thought we''d move summer of 2007 into a house. I''m a teacher so it made more sense to worry about all the details while I wasn''t working. Also, ideally we''d live in this really expensive area with these neat old houses, and DH''s commission based job is less than one year old and he''s still making an ever-reducing salary, so I thought we''d wait and see where things stood a bit later. However, DH is outperforming everyone else in his "class" of new hires despite being given less business and having to find it himself. Still, it''s not as though he''s making enough not to still be getting the salary.
We love our building and our neighbors. Our units all back up into one deck area, and we just pop out back to hang out whenever the weather is nice. Honestly, that''s the number one reason that I have been reluctant to move. I also feel bad because DH just joined the condo board.
We weren''t really even thinking about moving until we put up the Christmas tree. We always hated this compact but unwieldy CD tower we got to house our hundreds of CDs, DVDs, and VHS tapes. I commented casually about how I hated the darn thing, so DH decided to get rid of it. In true DH fashion, he did so without any plan on where to put everything that was on it, so now they''re just stacked here and there (as if it wasn''t cluttered before).
DH suggested building shelves behind our bedroom door for the CDs. The door swings out pretty much flush with the wall, so I don''t really understand the theory there. Suddenly I just felt this certainty . . . this is ridiculous . . . we must move!
So I basically announced that we must move and we went to a few open houses on Saturday. We had seen a house near where we live that a friend bought a few months ago. It''s not a huge house, but it''s more than double our current size plus a full basement. I realized that this kind of house would be perfect for us.
One of the houses we saw inspired us although it had only one bathroom (and it was upstairs!!!). There is a house for sale on the same block as our friend''s, so we asked our realtor to show it to us yesterday. And it''s super duper cute. The floors are in great shape for being the better part of a century old, and walls have been knocked down downstairs to open things up.
Our realtor checked the history and it has been on the market several months. It started out priced at X, and it has recently been reduced to 90% of X, which we''ll now call Y. DH and I really hadn''t processed this whole thing, but decided to get "pre-qualed" just in case. Then DH said, hey, let''s offer 90% of Y. This seemed like a crazy low-ball bid, so I guess my reasoning was that, well, if they accept the offer then that will be our sign.
Of course, the offer was rejected, but they came back right away with an offer for 95% of Y. Before we made our offer, that''s actually the exact amount DH said he was hoping we''d settle on. After already dropping the price, I think their response was pretty generous. The owner is deceased so nobody is living there and I think the executor would like to make the sale and move on.
So now reality is sinking in and I''m realizing that I seem to be making a major life decision on a whim. I realize that sometimes that''s a good thing. I''m sure that when we decide to have children, we''ll just suddenly decide to start trying one day. But now I''m panicking at the decision we have to make.
Pros

*location: only two blocks away. The neighborhood of these houses extends many blocks in either direction starting about one block from where we live, so finding a place so close is lucky and important to us. Two blocks away means we''ll have our old neighbors over all the time and walk to all the same places. Ten blocks away, while really really close when you''re driving
, would mean that we couldn''t pop on over to the same markets or restaurants.
*size: we can stop living on top of one another and can have out of town guests (going from one bathroom to two and a half)
*charm and upgrades: there are many cute features, and things that obviously take a lot of work that we would really want have been done -- opening up living room and dining room, knocking down wall between kitchen and dining room, adding a bathroom downstairs and even one in the basement for good measure, adding A/C upstairs (um, hello, why not do the whole house people?)
*some must-haves: some houses only have outside basement access or a very primitive basement area -- this basement isn''t carpeted or anything, but it has heat, a bathroom, and inside access. There''s also a garage. DH had one or the other on his must-have list. Then there are the bathrooms.
*price: We''d be paying about 80% of what our friend paid for her incredibly similar house. I don''t think she realized the bubble was bursting and paid a price more of what you''d have seen a year or two ago.
*upgrades: the bathrooms are all new, the kitchen has room to grow but is livable, A/C has been put in upstairs, and the house has been opened up
Cons

If you read the last pro, you realized A/C is *only* upstairs. We''d have to put it in downstairs. Our friend did this when she moved into her house, and it didn''t seem too hard.
*upgrades: A/C downstairs, ideally we''d redo the cheap counters to match the marble that was put in when the wall between the kitchen and dining room was knocked down and replace the stove and dishwasher. Also, ideally we''d wall off the door adjoining the two big bedrooms and add a closet, both for privacy and because there''s nowhere obvious to put the bed except up against that door in one of the rooms.
*appliances: house does not come with washer and dryer, but there are hookups in the basement; we''d want a new stove and dish washer
*cable: the house does not seem to be fitted for cable TV; we saw where the phone lines enter, so hopefully that wouldn''t be too hard. The house next door had a satellite dish, so we should get confirmation on the ability to have cable internet and TV.
*security: living where we live now, there are only two points of entry: the front, which is controlled-access, and the back, which is past all of our neighbors'' places. We have an estranged family member who married a violent felon whom she had never seen outside of prison while he was still incarcerated, and there''s always the thought in the back of my head that he could come after us. We would definitely need to get an extensive security system, and I think I''d still feel less safe. (That was inevitable whenever we move, and you can''t put off life decisions because you''ve got a crazy family member.)
*timing: this is obviously not when school is out, so we''ll be doing all of these upgrades and selling our current place while we''re both working.
*buyer''s market: we may have more difficulty selling our condo than we think. (We bought it before the market peaked but while it was on the way up; I am fairly confident we could easily sell it for what we paid or a little more. We may have more difficulty getting 10-20% more than what we paid, but we didn''t buy it to make money. Of course, the buyer''s market is benefitting us on the buying end, and that is the bigger transaction of course.)
*two mortgages: we''d have two mortgages until our place sells. We were approved for X even with our current mortgage, so in theory we should be able to handle 82% of X, but it''s not as though we''ve had thousands of extra dollars left over each month that would make this a smooth transition.
**********************************************************************************
Well, the good news is that I feel better and less panicky now that I wrote this post. Obviously if we live two blocks away, we can see our neighbors whenever we want. We''ll just have to make the effort to go two blocks rather than two feet. This was always inevitable anyway, so it shouldn''t be a deciding factor.
I really think the price is good. It''s 14% below the original asking price, which was already lower than what our friend paid, and she also had to put in A/C downstairs.
I can''t tell you how wonderful it will/would be to have the room and flexibility. When my parents come to visit, we let them sleep in our bed, and we sleep on the futon that''s crammed into the office. It''s not pleasant sharing a bathroom with four people in a tiny place. In this house we could easily have guests and a small child or two, although we''d want to move again into one of those dream houses when we need more room and have school-age children.
You might be thinking, a house with no A/C downstairs? What kind of crazy people live like this? Well, yes, I agree, we wouldn''t move in without putting it in first, but that''s just what comes with a charming old neighborhood that was built before central air. All the houses in this neighborhood are all starting out without any upgrades or A/C and just one bathroom, so it''s actually ahead of the game.
Honestly, sometimes I think about not being in the tiny love nest with my husband anymore and get sad. Wherever you are, you can talk to the other person. In a three story (counting the basement) house, we can be in the same house but be apart. But then I think of the hundreds of CDs sitting on top of my husband''s dresser, and how we were going to move anyway.
This doesn''t really factor into the decision, but this will also strain things with a certain friend. She graduated from college and never really got a real job. She worked as a realtor with her mother, but I get the sense that that just meant her mother cut her in (I am in no way saying that being a realtor is not a real job . . . just that I think psychologically my friend was afraid of the interview process and was avoiding it by trying to do something she wasn''t cut out for . . . and she may not have realized that because her mother was subsidizing her). Then she got married and tried to be a realtor in our area, with very little success. I''m guessing about two sales in a year. She''s finally gotten a 9-5 job (her husband is in grad school), but she still considers herself a realtor. She was irate when the brother of a friend (so this wasn''t even a friend, just his brother) used someone else. In her mind, she''s thinking that we''re making this transaction anyway, so why can''t she get the commission? But the person we''re using is a really good connection for my husband''s business and is an expert both in condos and houses in our area. He has furniture on hand to stage your place and has a contractor who does touch-up work to make it look better. I don''t think our friend would have any idea what comparable places are selling for, but the person we''re working with sells them all the time. The bad thing is that a year ago DH asked her to show us a place that we would never have bought anyway just because he wanted to see the inside, so she may feel there''s precedent for us using her. But again, this is a bridge we''ve always had to cross . . . I''m just not looking forward to her reaction.
So, some feedback would be great. Are we CRAZY???? Or is this a great opportunity and let''s stop worrying about all the details and just jump in?
Another thing that concerns me is that I had to make a Pro/Con list. To be fair, my husband called and told me about the counter-offer while I was asleep, so I think my subconscious mind was getting all stressed and so when I woke up to go to the bathroom I started panicking. But one of my theories of life is that you shouldn''t need a pro/con list to make a decision. For my first job, I made one, and it turned out I had convinced myself to take a horrible position. When I was lucky enough to transfer with only one year under my belt, I didn''t need a list. When I got my current job, the answer was, YES! Same thing with getting married -- I never once worried that I was making a bad decision or had cold feet. So just the fact that I had a panicky feeling and had to make a list worries me.
But then again, I guess I''d be a pretty dumb person if I just made life decisions on a whim and didn''t at least consider everything. So in this case, a list seems like a good idea.
The funny thing is that
I''m
the one who said we had to move and
I''m
the one who wanted to see that particular house before I left for vacation. And yet DH seems to be ready just to take the plunge (men

. . . j/k). I mean, those two impulsive statements alone are sort of out of character for me, but I also think that that''s my role in the marriage . . . the catalyst.
Does anyone have any feedback???
Oh my . . .