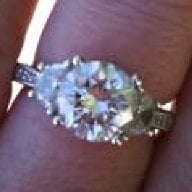 Joined

Jun 18, 2010
Messages

5,765
DandiAndi|1378900867|3518528 said:

I'm absolutely astounded that anyone would tell you you're crazy for wanting a c/s, or a vaginal birth, or a waterbirth with freakin' dolphins flapping about, and angels flying around playing harps for that matter. I mean for pete's sake!!! It's your body!!! It's your birth experience! Maybe it's because I work in an aspect of the baby-delivering industry, but man, I get really ticked off when I hear stuff like that.
Thank you! It's interesting, my friends who have had c-sections are very supportive, while the ones who had vaginal births think I'm nuts. One friend, in particular, is pretty vocal about it. She's had three babies and the youngest was practically laughed out (her husband was telling a joke and she was cracking up and the doctor had to tell her to stop laughing because it was pushing the baby out). The thing is, I'm sure the next delivery would be easier (especially if I wasn't induced), but even thinking about it gives me anxiety. So why spend an entire pregnancy stressed out about it?
Meg- I've thought a lot about the benefits of natural birth. I was very anti-c before I had to go through a birth and it was mainly because of the benefits associated with the process. We plan on having three kids, so potentially two c-sections. We originally wanted four (!), and if that were still the case it would be a much more difficult decision. Hey, maybe I'll be one of those girls who has a 30 minute labor and the baby is born on the way to the hospital!
It is scary that it is major surgery. A friend of mine had some issues from her 2nd c-sec where her bladder attached to scar tissue or something crazy, and she had to have surgery to correct it. She accidentally got pregnant again and had a 3rd C without complication.
Laila619 said:

The only thing I fear about a C-section is the scar. I tend to scar easily so I am picturing a really bad scar across my stomach.
Same here. But, then again, post-baby there aren't many people seeing that area anyway!