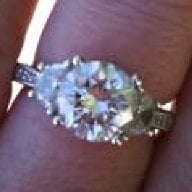 Joined

Jun 18, 2010
Messages

5,765
I'd love opinions and experiences on c-sections. I'm not pregnant, but we will be trying in a few months. My first experience with birth was awful (my son is 13 months, and it's still as scary as it was a year ago). I was induced a week early for a variety if reasons, mainly my son was measuring really big and I had mild pre-e....plus I had been having contractions from 29 weeks on and enough was enough. Labor was tough. It was mainly back labor, saved only by the epidural. My epidural then ran out as soon as I reached 10cm. I was assured it would be fine because I had at least 2 hours of relief even though it was empty. I ended up pushing for 3.5 hours and was throwing up stomach acid between pushes.. My son kept turning a weird way. The doctor would turn him and he'd move right back. He ended up coming out with his head sort of diagonal to the direction it should have come. This resulted in a giant hematoma on the back/side of his head. He had this weird bump thing for months and even now it's still there if you feel for it (the pediatrician said it can take a year or so to completely heal). When my son finally came out I was more relieved that it was over than that he was there.

Recovery wasn't much better. It was a good 6-8 weeks before I could fully walk without pain. My bladder/pelvic floor was a mess and I had to go to physical therapy. I had a lot of scar tissue "down there" that had to be worked out by the therapist. All in all, it was a good six months before I was completely back to normal (but, really, will my bladder ever be the same?).

Having said all this, I want to request a c-section for next time. I think the birth left me with mild PTSD (or as close to it as you can get). The idea of going through it again is beyond frightening. I have my annual exam next month and will talk to my doc about it. I've had a lot of friends who have had c-sections and recovery just seems so much more predictable. Then, on the flipside, I have the friends who say how much easier #2 was and that I'm crazy for wanting a c-section.

I'd love to hear from any of you who can chime in.