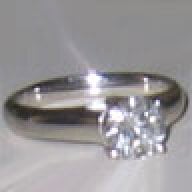 Joined

Nov 8, 2005
Messages

3,136
I got some sweet birthday gifts from my DH from a popular jewelry website. I love the items he chose, but I''ve noticed a couple minor problems and I''m wondering if it is worth the hassle (and possible expense, haven''t checked) of returning and exchanging. I would just want another one of the same item. The items were not expensive, and the "flaws" are minor. Exchanging might send DH the message that buying jewelry online is risky or that I''m too picky for him to please... or he might not want to buy from this vendor again and I really like their stuff. Although I must say, I am dissapointed to be having any quality issues (even on their lower priced items.)

the problems:

Silver chain: Clasp does not spring closed. It closes fine and stays closed, but you have to use your thumb to actually close it. Didn''t notice this at first and my pendent that I was wearing fell off (fortunately on carpet and was fine!)

Bezel set topaz earrings: One is very slightly loose in its bezel. I noticed when I tapped on it and heard it rattle a bit. The other one does not rattle.

Has PS made me a detail person to the EXTREME? Or are these legitimate reasons to exchange?