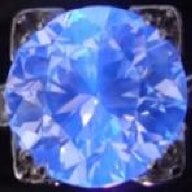 Joined

Apr 26, 2007
Messages

8,087
The good news is, I'm pregnant (yay!): the bad news is, my hands are getting sufficiently swollen that I can't wear my rings. Don't even talk to me about shoes.
Me being me, I can't picture going ringless: I feel
naked
. So, I started trying to figure out alternatives ....
I confess:
I tried going fake-y
. I couldn't do it. The first ring I ordered claimed to be a 1.5 ct. equivalent in a bezel - hah! Sucker's 10 mm. I applaud anybody who can carry that look off with panache, but, me, I felt like a big huge fraud.
So I started poking through my jewelry box, and ... voila! A solution arose. See, for my 21st birthday and my college graduation, my parents gave me a set of rough diamond rings - balas diamonds, or "pearl" diamonds, one green, one white. They weigh in at roughly 7 1/2 and 6 carats, if I'm remembering correctly, and I wore them on the middle fingers of both hands until I turned 28, and got engaged. You could say the were my signature pieces ... but once I was wearing my e-ring, I didn't want to risk damaging either stone by wearing them right up against one another, and it didn't feel right to wear one without the other.
Buuuut ... what with my hands all swollen, the rings sized for my middle fingers during "normal" times are now perfect for my ring fingers! Problem solved. And while I may miss my e-ring and my half my collection of eternity bands, I'm actually feeling quite happy with the solution - I have
missed
these guys!