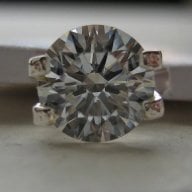 Joined

Jul 2, 2005
Messages

247
ETA
Idealscope
for diamond number 2 at bottom of thread.
Hey everyone! Well...after losing 2 stones that I was lusting after (in a span of 3 days!!) my bf and I are almost ready to 'pull the trigger' (he'll have the money ready to wire by Friday!!!).
I've had my eye on one of these diamonds, but as usual, am nervous about making the wrong decision!
So, between these two, what do you all think? There is a 500 dollar difference between the two. Thanks!
Diamond #1
. Report: AGS
. Shape: Round Ideal Cut
Color: J
Clarity: SI1
. Carat: 1.728
. Depth %: 61.9
. Table %: 56.3
. Crown Angle: 34.8
. Crown %: 15.2
. Star : 50.3
. Pavilion Angle: 40.7
. Pavilion %: 42.8
. Lower Girdle %: 75.2
. Girdle: Thin to Slightly Thick Faceted
. Measurements: 7.64-7.68X4.74
. Polish: Excellent
. Symmetry: Excellent
. Culet: Pointed
. Fluorescence: Negligible
Diamond #2
. Report: AGS
. Shape: Round Ideal Cut
. Carat: 1.86
Colour: J
Clarity: VS2
. Depth %: 60.7
. Table %: 56.5
. Crown Angle: 34.7
. Crown %: 15.1
. Pavilion Angle: 40.9
. Pavilion %: 43.2
. Girdle: Thin to Medium
. Measurements: 7.94*8.00*4.84
. Polish: Excellent
. Symmetry: Excellent
. Culet: Pointed
. Fluorescence: Negligible