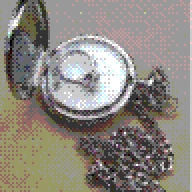 Joined

Apr 14, 2006
Messages

3,929
So, me being me, I''ve been asking and asking to have a Christmas present early this year. My fiance has been adamant that I will have to wait, but guess what surprise he had for me last night when I got to Georgia??

Better than anything I was expecting!!

My wedding band!! He says I can''t wear it, but he did let me try it on and if I can get a good picture of it, he''s agreed to let me post it. Yay!

It doesn''t have the emeralds, but looking at it now, the diamonds are so small, I''m not sure they''d be detectable, anyway. We''re thinking of taking it to another jeweler to see if they can make it work, since this jeweler went a little odd on us and said that emeralds are too soft of a gem to be placed with diamonds in a channel setting. Not sure I buy that, but I''ve not looked into it, either. I think Paul''s talked to a few jewelers around the area, and some of them said if we brought it in after the holidays, they could hook it up. We shall see.

Now I''m off to take pictures!!