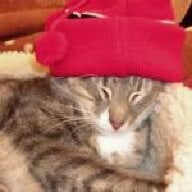 Joined

Aug 14, 2009
Messages

23,560
I think they're SO similar, you wouldn't even note a difference unless you had them side by side and were looking closely

Like having two diamonds that are identical except that one's a D and the other's an F - you probably wouldn't see anything different unless they're right beside each other!
... Sort of. The problem with that analogy is that D is objectively more valuable and "better" than F, whereas with these pearls - one is certainly not objectively preferable to the other(s).
Asking for a couple of photos on skin is a great idea. And very convenient because they've got Asian hands too

I personally would go for the 8.7, for the best match to your studs, because that would be most mind clean for me.
Last edited: