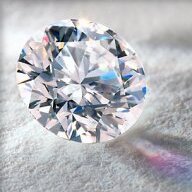 Joined

Nov 21, 2008
Messages

156
Yay, we got engaged on Friday!!!
We are currently doing an LDR and live in 2 different cities, 800 miles apart. He lives in the eastern standard time zone, I live in central. I am going to visit him this Wednesday and we have lots of plans for the weekend including visiting my parents for dinner on Friday night. We are then leaving for a week long trip to Europe on Sunday. I had a suspicion that it would happen after Wednesday but before Europe.
I came home a little late, changed into my workout clothes, ate a super-healthy-filling dinner at 7 pm and was just sitting online. I was waiting until 9 pm to go workout because I wanted to be able to workout and watch some long edition of Food Network's "Unwrapped" at the same. At 8:30pm I called FF just to see if he'd pick up. Often he goes out on Friday with his friends so I don't always hear from him. Well he did pick up and told me his parents were coming over because they were going to visit his cousin. Whenever I am on the phone with FF, I can always hear all the background noises very clearly for some reason. I can follow entire TV shows and even hear street noises sometimes. As he finished telling me about his parents, I heard a female voice in the background say "The time is now 8:30 pm central standard time." Instinctively, I knew I had heard that voice before. It was the automated female voice they have at the airport.
me: "Um are you at the airport?"
him: "No."
me: "What was that about Central Standard Time? That sounds like the airport lady."
him: "Oh no that was just the TV."
I didn't buy it. If he was at the airport, that meant he would be here in as little as 20 minutes. There was only one reason he could be coming over unannounced so I had a feeling this was it. I started running around cleaning the apartment as fast as I could. I called my younger brother to tell him of my suspicions. I wanted to post here too but I was racing against the clock to get my apartment looking halfway decent.
Sure enough, at about 9:15, there was a knock on my door. I opened the door, and he was there with the ring box open, 1.5 dozen roses, and champagne. I let him in, couldn't contain my excitement. He said some very heartfelt things, asked me the question, put the ring on, and then asked me to take him somewhere for dinner because he was starving. I was still in my workout clothes! I took him to get some dinner, but I couldn't eat anything with him because I had stuffed myself 2 hours earlier. D'oh!
I took him back to the airport last night, but I can't wait to go back Wednesday and be able to spend 1.5 weeks with my fiance and my ring!