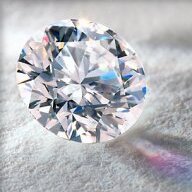 Joined

Nov 21, 2008
Messages

156
I've reached the final stages of my e-ring process. After the diamond was finalized, I tried on a zillion settings all over town, looked at two zillion pictures on here and online, yet I found nothing I loved 100% so we had one designed. I approved the CAD designs and picked my metal last week. Now the ring is being made and will be shipped to FF who will give it to me whenever he decides the big day is. I won't be seeing the ring after it is finished because I want the final product to be a surprise and to see it for the first time on that day...
But to practice, I'm posting this thread to make sure I've got the attaching pictures thing figured out. If these two settings got together and had a baby, I think it is going to be what my e-ring will look like.
Let's call the top view in this picture the setting mama (from Knox Jeweler's site).