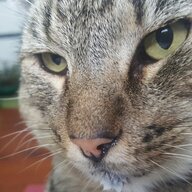 Joined

Apr 30, 2019
Messages

5,057
"Like a long lost adopted child" that gave me a good laugh

@Daisys and Diamonds

It is raining today AGAIN (like have we become the new Seattle?!) and my allergies are killing me so we will keep looking when we can but my hope is dwindling. How much you want to bet that once we stop looking we will find it. I will definitely update with any new developments!
hopefully the rain is washing away the pollen
maybe the ring bounced a bit of rolled a wee way
do you have special plans for this ring ?