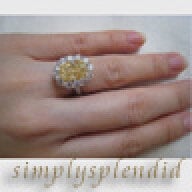 Joined

Nov 19, 2006
Messages

1,772
Hi,

My girlfriend is picking out her e-ring so I am offering some assistance. She is looking at a GVS2 1.34 carat AGS000 diamond. The specs of the diamond are:

Table: 56.4%
Depth: 62%
Crown Angle: 34.6
Pavilion Angle: 41
Culet: None

I plugged the numbers above into the HCA and it generates a 2, with only Excellent for Light Return and Very Good for everything else. It also falls outside of the AGS Ideal box, yet this is an AGS000 diamond.

Would the experts kindly provide some advice why there is a disparity here? Thank you very much!