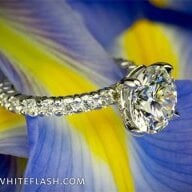 Joined

Jan 30, 2007
Messages

807
Hello,
I''m new to this forum actually to PS in general. I''ve been on for a couple of weeks now reading all of the info and you all seem so nice and helpful and I need help so I figure I''ll ask and see what you experts have to say.
I''m about to get engaged and BF had a 1.01 VVS2 I diamond that was his mom''s and wanted to use that for an e-ring. It''s very pretty but not AGS or GIA certified but IGI USA certified and it was done back in 1999.
I don''t live in the US I live in Canada and diamond prices seem to be very high here and we have absolutely no online vendors so I researched around and found
WF
and had heard really good things so I decided initially to use mother in laws diamond and get a setting from them.
Turns out
WF
does not sell just setting w/o a centre stone and the only way I could get what I wanted was to send them the diamond I had, have them appraise it and then set it and send back to me huge hassle with Canada customs regulations and also money we can''t and don''t want to spend for nothing I''d rather put it into the ring.
So BF said I could get a stone from
WF
and the setting so I was super happy b/c I wanted a bit of a bigger center stone.
So here is my ques is
WF
really as great as what I have heard? Can I really trust them? I have talked to a rep Katie extremely sweet and helpful I really like her.
I want to know what you think b/c once I order the ring I am going to fly out to the States to pick it up and go home so I can''t have a bunch of stuff go wrong b/c I don''t want to be sending it back and forth b/w Canada and the States and paying tons of money for nothing.
Pls help!
Also I am looking at a 1.54 VVS2 H stone as the center stone, it looks lovely but
would like to know what you guys think
http://www.whiteflash.com/aca_princess/A-Cut-Above-Princess-cut-diamond-61178.htm
Any advice would be much appreciated. I''m a full-time grad student and he just graduated so we can''t really afford to waste our money I want to get something that I can wear and be proud of for a long time b/c I won''t be able to upgrade for a while we would like to buy a place together.
Not sure what else to tell you ring size is 4.5 and I''m built small 5.5 or so Katie told me this stone would look huge on my hand and I trust her judgement but you guys know so much too.
Lastly, I want to get the full eternity setting for the stone in white gold 18k and 2 matching eternity bands for either side when we get married.
Thank you for taking the time to read this and thanks in advance for any advice/info you might have!