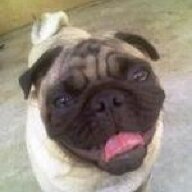 Joined

Jan 20, 2016
Messages

12
Hello!
First, let me say that I've been a LONG time lurker, and I have learned so much from reading this forum. Thank you!
My kind husband has suggested that I upgrade my current diamond ring since we've been married now for 10 years. My current diamond is a 0.74 princess cut, F color, VS2, good cut. The diamond is OK, but I've been longing for a round diamond that is at least 1.3 carats with an ideal cut that really sparkles!
I've been seriously considering these two
WF
diamonds for a while now, and I'd be so grateful to get your opinion on them. I'm looking at
WF
diamonds because they've offered me a decent price for my current diamond if I upgrade with them, but I'm open to other vendors if the diamond and price (9k max) is right. Thank you in advance!
This one is my first choice, and I have it on hold. A representative from
WF
has assured me that it's eye-clean "from the top from as close as 6 inches and is a great SI", but I am still a little nervous about the crystal under the table being visible. What do you think?
http://www.whiteflash.com/loose-diamonds/round-cut-loose-diamond-3587736.htm
This one is my second choice. I'm loving the size, and I've seen so many beautiful J's on this forum. I do work all day in an office with horrible Fluorescent lighting and no windows. So, I am wondering if it will look warmer than I'd like for most of my day.
http://www.whiteflash.com/loose-diamonds/round-cut-loose-diamond-3595896.htm