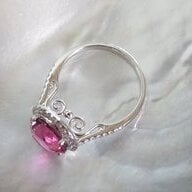 Joined

Jan 27, 2015
Messages

360
Hello, I am hoping for some advice on a baroque silver-blue akoya necklace. These were advertised as "natural-color akoyas featuring silver-blue body color with hints of rose in the rare and large size range of 9.5-10.0 mm".
I purchased this strand from a well know online pearl retailer. I was looking at them today and began to worry that the nacre is thin. A number of the pearls exhibit a creamy to slightly yellowish look on close inspection. Is this normal for silver/blue akoya pearls?
I took these pictures tonight under incandescent and fluorescent lighting. I will try and take some in the daylight if that is helpful.
The strand was not inexpensive. I'd like to return them if they are not going to last. I don't have any frame of reference so I'd appreciate any advice. Thank you!