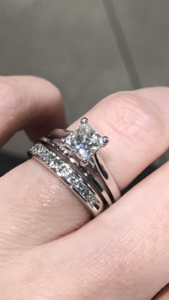 Hi there,
I am new here! Long story short my original ring was a 0.5ct princess cut, when my daughter was born my husband wanted to upgrade me. He bought me a 0.75ct and had the original made into a pendant.
The upgrade was purchased from a chain store in the UK and when I took it in for checking as I thought something looked off they basically told me it was in my head. I took it to an independent jeweller who advised that the diamond was set squint, it was also brought to light that the diamond looked far warmer than the G colour we thought we had purchased. It always had a slight yellow tint to it.
We ended up going down the route of having it graded independently and all the specs came back different from what we were sold-6 months down the line we finally got our money back.
We then purchased a 1.06ct, G, VVS2 princess cut from blue nile and had it set by the jeweller that helped us. I really love the ring but Had always looked at the Tiffany Lucida however this was vastly out our price range.
I have been browsing recently and have seen a few pre-owned and it confirmed that it is my dream ring. Still a wee bit out on f price range but was thinking of selling my ring and saving up the shortfall.
I guess I am just looking for advice and how to get best value for my ring and if anyone has any advice with regards to pre-owned Tiffany rings?
I have attached a picture of my ring also.
Thank you.