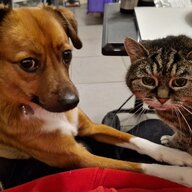 Joined

Jul 7, 2013
Messages

5,345
Advice please from keen cooks with kitchen gadgets.
I have a Magimix 5200 XL food processor, and am contemplating getting a Kenwood Titanium Chef XL (similar to a Kitchenaid), as I find the Magimix cumbersome to clean.
I am making larger batches of cookies and cakes etc., and am tempted to do more pastries and even breads, and I thought about getting a Kenwood.
Is it OTT to get both, or they serve sufficiently different purposes to warrant getting both? In a lot of the cookery programmes I watch on the Food Network, both types of machines are put to good use.
Thanks for your help and advice in advance.
DK