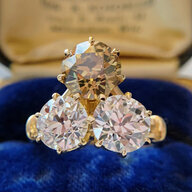 Joined

Jul 23, 2012
Messages

19,714
I work in an office and our pay is very "secretive" .

Depending on your salary grade you get paid within a range. So, one salary grade makes anywhere between a high number and a low number, and the higher the salary grade, the range moves up.
One would assume where you fall in that range is determined by tenur, performance, and education.

Two women who sit by me have the same performance reviews, same education, and one has as much tenure as I do, another has worked here 2 years less. They have not gotten they became the same salary grade as me at the exact same time.

They make 5% more than I do.

Another indicator is when I worked in another department a friend of mine got hired into the same department. She actually has the EXACT degree as me, was hired in with a lower salary grade, and was given a salary equal /slightly higher than me.

I don't know what to do, I know they will say. "Well its in a range" but clearly the range isn't based on tenure, performance, or salary grade, so how exactly am I making a noticeably lower amount each month? (Which also means my bonus is less, too)

Furious.