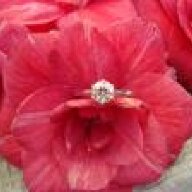 Joined

Apr 3, 2011
Messages

26
Hi everyone

,
I would greatly appreciate extra input. Not sure what to do next. This is my new diamond and solitaire setting.
Diamond specs:
AGS 000
.62ct, G, SI1
Ideal cut
Depth: 61.0%
Table: 54.7%
Polish: ideal
Symm: ideal
Culet: pointed
Flour: none
Crown: 33.9
Pav: 40.8
HCA: 1.0
Light: exl
Fire: exl
Scin: exl
Spread: Very good
Ideal scope
was great.
Setting:
JA
#11019W, 18K white gold.
I'm very pleased with the diamond, very sparkly and bright.
My questions are (1.) regarding the setting. It was made in a size 4, which fits just perfect.
In the internet setting picture, under the diamond, there is a small hole in the gold shank under the basket. I imagine this may aid in cleaning.
When I received the ring there was no hole. I pointed it out to
JA
and they said that they would gladly put one in for me. What does everyone think? Should I have them put one in? I personally would like one.
Question number 2: I will have to purchase a new wedding band. (my current one a plain 4mm band and yellow gold). I'm leaning towards a 1/2 diamond band. Maybe a small one to fit the style of the ring since it is narrow and petite and my fingers are small. The setting has a little bump at the base of the diamond basket that sticks out. Should I look for a straight band or one that curves around the bump. My concern is that the two gold bands rubbing together may be a problem. What would you PS experts recommend?
I would love everyones feedback and greatly appreciate it!
Thanks!!!
(I am on an iMac. Could someone
please
tell me how I can attach a couple of pictures? (jpeg)??) Sorry to be so thick!!

I am attaching the url of my ring finished from
JA
http://www.jamesallen.com/engagement-rings/sold/solitaire-rings/3039/Round-Solitaire-Ring.html