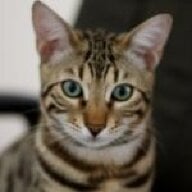 Joined

Jun 4, 2008
Messages

6,893
Date:

2/2/2009 10:28:37 PM

Author:

mochi

Date: 2/2/2009 12:40:15 PM

Author: LtlFirecracker

Mochi,


I hope that you weren't set on that stone. Part of me loves to have a community that loves stones, yet I feel bad when we want the same thing. You have some very pretty stones. I love that tourmaline you bought. The blue is to die for. I looked at it, but I am trying to stick to my small stone project right now. I think one more and I will be ready to find someone to set them.


Here is a pic of the sapphire for reference.


I love all the stones everyone has got so far. Can't wait to see real life pics.

Noooo....I'm glad someone on PS got the stones because that usually means there are going to be alot of pictures posted!!

I'm into blue's right now, don't know why!

BEG... I did get the chysoberyl. That was pure impulse buying.

I'm just excited that we all got to get something and that we're going to be able to share the pictures!!
Woohoo! Your other chrysoberyl will have a friend!

EDIT: That was my 1000th post!!!