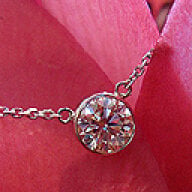 Joined

Oct 30, 2002
Messages

31,003
Ok time to confess. I've had these images on my hard drive for a few weeks now but with all the holiday madness, just got around to modifying and posting them. There's a new stone on the block...!

NO! It's not mine!!!

Two close friends of ours got enaged a few weeks ago...with a 1.12 I VS

ACA

Princess in the

WF

Legato Solitaire setting for princesses. It's an amazing ring, I had the pleasure of viewing the stone itself in November when my friend asked me for help, and it was so beautiful. I am not the hugest princess fan but I *love* the

ACA

Princesses. They are seriously so blingarific...it makes me question my love of rounds.

It was between this princess and a similarly sized round, but the princess won over my friend for his girlfriend. My friend who has the 1.60 K VS in the

Ritani

setting and I work together now, so we met up with our girlfriend the day after her engagement for some lunch and picture taking!! I only had a few minutes so I had to work fast, so here is what I got, unfortunately not my best and no flower shots but oh well!!

Here are some shots that I took when we were comparing the 1.12 princess to a 1.12

ACA

round. It was amazing how little size difference you visually saw even though the princess technically had a much smaller diameter than the round on paper. And the bling, they were so close in sparkles..amazing!

First shot, the stone on it's own...I absolutely puffy heart this shot.