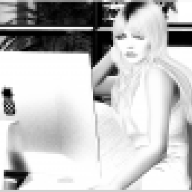 Joined

Jan 10, 2016
Messages

85
Hi everyone.
My BF is about to purchase a pre-loved ring by Jewels By Grace. The ring was brought to my attention by a PS member. It fits our criteria (especially budget) and luckily, I love the ring. It has the vintage style I was seeking (it's in a
Ritani
setting), and even though it is technically a halo (which I wasn't looking for) the stones on the band and sides elevate it to something more unique. Nearly everyone we've shown it to agrees it is beautiful and a good choice.
It's a case of what is one persons "trash" is another one's treasure; the ring is only a few years old. Apparently was bought without consulting the bride, she wasn't crazy about it and got an upgrade soon after. Held onto it for a couple of years until she decided to consign it to JBG. I'm fine with that.
Here's the link. You can see larger pix and videos from the link in the description.
http://www.jewelsbygrace.com/signed-pieces/rings-bands/1-09ctw-round-brilliant-cut-diamond-3-stone-ring-by-ritani#.Vscc-_krKUk
I've been assured the palladium will wear just fine for me, however, I'm still somewhat concerned about the clarity rating of S12. I've been in touch with Grace and while it does not have a GIA certificate she had it assessed by her in-house person. It states eye clean, and from the photos does appear to be. It also seems to have good light return but photos were taken outdoors and since there is no report stating details such as polish or symmetry it's kind of hard to know if what I see is accurate.
I'd appreciate if I could get some more feedback on the appearance. I'm hoping that whatever inclusions there are have been hidden by the prongs/setting and since it is in a halo the sides/bottom aren't seen.
Thoughts, opinions, etc. appreciated. We'd really like to make a good choice and not regret it afterwards. Thanks as always!