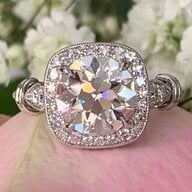 Joined

Jan 11, 2006
Messages

57,595
Today janetjoan and I went to Tiffany's and out to lunch! It was in the high 60's and sunny and we even ate lunch outdoors at an Italian restaurant! We decided this is the life!
Janetjoan was kind enough to take pictures with her phone, and the salesman was SO nice and happy to show us lots of rings, even ones we didn't ask to see! My goal was to try on bands with this setting for all considering the setting to see, especially blueiris! Please understand that we were only able to take one shot of most rings and they aren't the same quality as with a good camera, but hopefully you can see that ALL the rings looked good with the setting!
Yes, every one. I am convinced this is why this e-ring setting is a classic...it goes with all their classic bands! It will take me several posts to post them all.
For starters, the diamond bands: