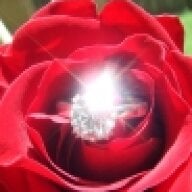 Joined

May 23, 2008
Messages

177
...that has got me jumping out of my skin!

So, I did a little manipulating, asking about when FF really planned to get down on one knee. I told him I was thinking about going with the honors program at my school to study abroad in Costa Rica and that they are leaving in August, and I asked what he thought about it (which was all 100 percent true - no lie there). He got all sorts of upset and said that it would ruin his plans for the rest of the year. I inquired further, mentioning that I wanted to squeeze something like that in before I had anything holding me here, like an engagement, wedding to plan, etc. And he said, "well, I REALLY didn't want to give you any kind of timeline, but it is definitely going to be before August 1." So I flipped out and got all excited and asked him to *promise* me, because I wasn't missing out on this trip for nothing... and he did!!!

So, in the calmest possible manner, staying as cool and levelheaded as possible, I'd like to take this time to let out a teeny tiny

AAAAAAAAAAAAAAAAAAAAAAHHHHHHHHHHHHHHHH!!!!!!!!!
YYYYYYYYYYYAAAAAAAAAAAAAYYYYYYYYYYY!!!!!!!!!!!!!!!!!!!!!!!!!!!!!!!!!!!!!!!!!