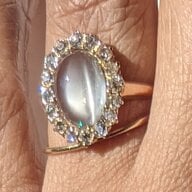 Joined

Dec 26, 2017
Messages

581
I shared my previous oval lab diamond on PS earlier this year. It was gorgeous 2.74 E VS1 diamond - bright, white, and crisp. So stunning to me, it seemed to glow in certain lights. Here's the original thread:
https://www.pricescope.com/communit...n-a-two-tone-solitaire-by-david-klass.278740/
In that thread, I had shared that the reason I purchased it was because my e-ring, an OEC set in a halo, isn't fit for life with littles and I had been on the hunt for a lab old cut solitaire to wear on a daily basis. Lab old cuts are so hard to find in my budget/spec preferences and when I stumbled upon this oval I thought I'd take a chance because it look so striking in the video. I lucked out as it was absolutely beautiful in person.
As much as I loved it, I'm an old cut lover at heart and couldn't get over the itch for an vintage cut stone for daily wear. Fast forward a few months, I came across the most beautiful antique moval- it was a dream type stone for me. I tried listing my oval ring to raise funds to purchase it but it slipped away before I could sell my ring. What happened then made me realize that i'd be willing to give up other jewels for the right one so I decided to continue listing my ring so I could have the funds available, should I come across another diamond I'm smitten with in the future.
I also listed another antique cut lab oval I was hoarding to raise funds. I purchased this oval on a whim because, after appreciating ovals from the one I lucked out on, they appealed to me more and the cut was so fascinating. When it came in, I thought it was so beautiful with the high crown and culet giving it a vintage feel that I kept it. I hadn't decided what to do with it though, since I already had an oval ring I loved so I was just enjoying it loose, contemplating different options.
Back track to the oval ring I had, since I was willing to sell the ring either loose or complete, I had reached out to DK to see if the antique oval I had could be swapped with the oval in the ring. That way, in case I just sold it loose, I wouldn't have a loose setting and loose stone sitting around and could enjoy a ring in the meantime. I learned it was possible. Fast forward a bit, I ended up selling the oval.
After I sold the loose diamond I realized that the antique shape oval had some specs that had sentimental significance related to my wonderful mama who joined the angels the beginning of this year. I didn't realize this when I purchased it. Although it may be silly, I'm a numbers person so little things like that have meaning to me and made me excited to reset it. I decided to move forward with swapping it out. It's on it's way back to me now but here's a preview (not my hand). I know the cut is not a traditional oval so it's not everyone's cup of tea, and as much as I miss my gorgeous old oval, I'm so excited to get this back: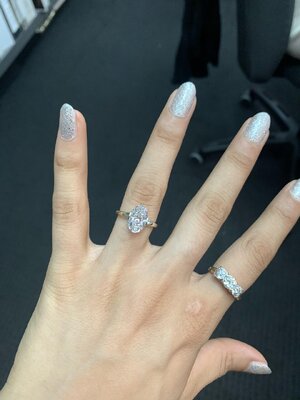 Lastly, specs of this oval for anyone interested: 11.68 x 7.69 x 5.53 (1.52 ratio), IGI certified G VS2. Sharing because I'm such a visual person and when I was looking around, it was so hard to find pictures of ovals in a particular ratio. Hopefully this helps someone with their search!
As always, thanks for sharing my love of all things sparkly.
TLDR: DK made a stunning oval diamond ring for me earlier this year. After a series of events , I ended up selling the original oval diamond and replacing it with an antique style oval. This a picture taken after the swap (not my hand) and it's on its way back to me. So looking forward to getting this home!