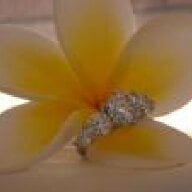 Joined

Jan 17, 2009
Messages

2,692
My bf got electrocuted at work last night, he had to go to the hospital and everything... i didn''t find out till this morning because he was on night shift and i was asleep and he didn''t want to disturb me (bless)... thank god he is ok, but it really made me start thinking about him and how much i love him and would hate to loose him.

After he told me his story i gave him a big hug and said ''i am sooo glad that you are ok...'' and he says to me.... yeah i bet you do... you haven''t got the ring on your finger yet so you wouldn''t want me dying too soon!! I know he was joking but at that point it made me realise that it isn''t about how big and sparkly my diamond turns out to be, it''s more important that we love each other and i will do anything to stay with him for the rest of my life... i would even give up the ring.

So i guess i just wanted to say to all the girls out there like me who are obsessing over the perfect ring and when it''s all going to happen (i am guilty of this over 100 times!!) just remember how we got here in the first place and what is really more important... the men we want to spend the rest of our lives with...

take care.