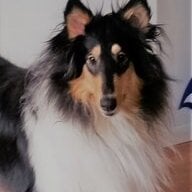 Joined

Mar 22, 2017
Messages

610
I'm thinking about a .6 ct round ideal diamond set in a 6 prong setting. My hubby prefers I just wear my wedding set and doesn't think I will go smaller. My ering is 1.17 ct

Are those who have smaller diamonds wearing them or always prefer their larger diamond? Thanks for helping. I'm trying to think through and I know the answer varies by the person but any insight is appreciated.
Well, I'm a real oddball, so bear that in mind......
I've come to find that I'm a small-stone person in general. My original e-ring is a half-carat with side stones, and long pre-Pricescope. We didn't know what we were doing, it's a GIA "triple good" -

. I liked it OK - it was still pretty. I felt the pull of "bigger is better," though, so as we approached our 10th anniversary, I decided that I was getting another ring to have as an alternate that would have a bigger stone, and that was the beginning of perusing, then joining, Pricescope and studying and agonizing and buying and selling and slowly accumulating a whole little wardrobe of rings that can go left or right hand - some diamonds, some good quality CZ, some moissy. That was 3 years ago, and even though I have some lovely rings with larger stones and/or more "coverage" that I adore, I rarely wear them. I have teeny, tiny, itty-bitty hands with short stocky fingers, and anything larger than about 5.5 mm tops just looks.....weird. And I almost never dress up - 95% of my life is in jeans/yoga pants and tennis shoes/sandals. And all my clothes and other jewelry is super understated. So......they only get worn the other 5% of the time at the most. The rest of the time I just keep reaching for the ones that range from 0.35ct to 0.5ct center stone, because that's just what fits my hand and my style and my life and.....me. And somehow, they just look more "bridal" to me than the others. I don't know why; maybe because my mother's was small as well, so that's what I grew up seeing? So, yeah, I always wear the smaller ones and almost never the bigger ones.
I think I'm
reeeeeaaaaally
a weirdo outlier on Pricescope, though!