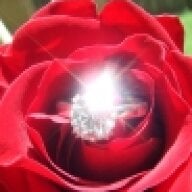 Joined

May 23, 2008
Messages

177
Tomorrow is FF and my 5th anniversary (02/03/04), and he decided to give me my gift early since I wouldn''t get to see him until later tomorrow night. I halfway knew that he wouldn''t propose on a "holiday" or on any kind of significant day (since I pretty much told him NOT to do that because I would be suspicious of him), but when he gave me a ring box I couldn''t resist the idea that it mighhhhtttttt be "the one." So I said, "Please tell me this isn''t what I think it is," and he assured me it wasn''t ( ). But when I opened it up, it DEFINITELY made up for it.
Here''s a little history. My mom has this b-e-a-utiful yellow gold and onyx ring that she got for her birthday about 25 years ago. I have always loved it, and when I was a little girl, I would sneak it out of her jewelry box and wear it around the house, pretending to be her (I always wanted to be just like my mom when I grew up.) So when I got old enough, she''d let me wear it on special occasions, and when I got even older, it pretty much became mine as I wore it far more often than she did. The only complaint I had was that it is yellow gold - and I don''t really own any other yellow gold jewelry. Well, FF overheard me talking about this with my mom awhile back, and last night, when I opened the box... it was my mom''s ring - in white gold! I was sooooo excited, and it is so beautiful and unique. I have no idea how he found it (or whether or not he had it made), but he did. And it''s awesome.
As soon as I figure out how to post pictures, I will, for anyone interested.
Just thought I would share

!
Adhesive