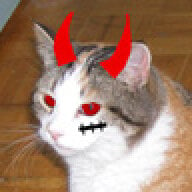 Joined

Nov 19, 2004
Messages

3,450
Hey ladies,

I really needed to post an update for all the lovely ladies that helped me through a really difficult time.

Well where to start (first off Irina, if I put things in a way that is inappropriate, let me know).

So for as long as I''''ve been on this forum, I''''ve always had issues with my boyfriend. Aside from the stuff that I''''ve posted, there''''s always been this prevailing sense of unhappiness about me. When I was younger, I thought it it was because I was obsessed with getting into med school, and that was why I wasn''''t happy. Then once I got into med school, I was still very, very unhappy and I thought it was the stress of school, and my boyfriend. Then there was the whole issue of FEARING to get married, disliking children with an intensity that was unnatural.

And of course, there is no doubt that there were issues between us as a couple.

So we broke up, I started conselling. I have to admit, when I started this I was SO SURE I knew that it was ALL my boyfriend that had been making me unhappy all these years. That''''s it end of story, we weren''''t compatible because we fought all the time.

So intense counselling, I''''m talking, talking, about all this stuff that upsets me, parents, school, boyfriend, crying at every session (he would bring a huge box of tissues for me ahead of time because I was a mess.) And the more and more we talk, the more we start moving away from boyfriend and school.

And then I tell him something that happened to me when I was young during the ages of 9-10 years old. Which I have only said twice before in my life. Because it is ugly, disgusting and terrible. Once to my parents, and once to my boyfriend. And I really think it''''s nothing. I believe it with all my heart, because I can honestly say that for the past 16 years I have thought about those incidents twice in my entire life. I did not even acknowledge them as being a part of who I am, or really actively accept that it happened to me. Partly because when I first told my parents, they were horrified, blamed me and would would unknowingly punish me for it. I think even for them it was too much. It was just something that happened, that our whole family knew, but we never talked about for years and years (and we still don''''t but I don''''t think that is necessary because I''''m dealing with it through other ways.

The very first time I told the counseller, after the session, it was awful. As he analyzed it with me I''''m starting to realize that this incident has affected every single part of my life. My negative-self image, why I got so angry, why I''''m such a dark person at times. And every choice I have made because a function of something I''''ve never admitted. That was the worst part, because I no longer felt like I knew who I was. And a part of me kept wondering, if you erased this from my memory, would I still be the same person, or even make the same decisions.

So intergrating it, remembering it all and even just accepting that *maybe this is making me unhappy* was hard. Seeing denial as a defense mechanism is hard. And the only thing I can''''t understand now is how I went all those years without realizing that this actually had any effect on my life.

Three weeks ago we had a class on it, and I just froze. And as they were listing all the things that happen to survivors, and their characteristics, I realize that they are listing so many things that are like me. Negative self image, tendency toward eating disorders, misplacing anger on spouses and significant others, self-hate, blaming yourself. AND most importanly, a PRONOUNCED fear of becoming an adult woman. (i.e of marriage and children) which pretty much explains it, because I couldn''''t figure out why when I was about 20-21 years old I loved children and wanted to get married, and then it all changes. In any case, what my counseller explained and I believe very much, is that at 20-21 I wasn''''t really at an age where having children and marriage as feasable, and now at 26 years old it is, all this stuff can no longer be repressed.

And on the flip side, in the past few months, my boyfriend did is own thing, worked on the stuff that were largely responsible for our breakup. Talked to a lot of people involved in MADD, and worked it out. He talked to me honestly, and sincerely, and I KNOW the drinking is no longer an issue. Talking with mothers, survivors, it was a private experience for him which I don''''t think he will ever forget.

Two weeks ago he came to the session with me. And we talked about what had happend. We''''ve never done that before, and it was so difficult, because it became so clear to both of us, how much he picked up on the things I needed, instinctively look for, but without able to talk about the abuse. And all this time I thought he was oblivous, and didn''''t care. And what''''s worst was because he never bought it up, I always assumed he thought I was lying. Although that is (I understand) a natural instinct, because when I was 9, my mother accused me of lying, so the tendency is to believe EVERYONE thinks you are lying. I was unconsciously very angry with him for it, for not bringing it up, and I suppose in some ways, being a conspriacy to the secret.

It''''s strange how understanding your fear can make it go away. In any case, I think I''''m going to need counselling for a long time to work through everything out, but that''''s an ongoing thing.

But I''''m sure you all knew how I was SO adament against getting married, or even doing anything remotely associated with marriage. The last time he dragged me to look at reception halls, I refused to go in, because I KNEW I wasn''''t going to do it. In any case, we went on Saturday, chose a place, and *drumroll* I put down a deposit. We needed to book early to make sure we got the date we wanted, it''''s July 26 th, 2008. We even picked the church.

But the best part is knowing that I''''m getting better, that I''''m no longer sad all the time and wondering "why am I so unhappy" I get down now too, but it''''s not this strange, vague, why am I down feeling. It''''s more because I see that the healing process is LOOONG. And I''''m not a patient person.

Deco was right, heal yourself. It wasn''''t him, all along it was me, and my stuff. But blaming him was easier then facing all the stuff which I denied for so long.

Thanks to all you ladies for the wonderful support, Deco, Firegoddess, Mara, Kaleigh, Oshinbreez.. so many others I''''m only mentioning these fine ladies because off the top of my head, I remember their advice so clearly. But all of the people in this community helped me through this stuff.

Hugs!