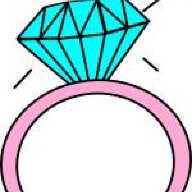 Joined

Aug 17, 2015
Messages

6
Hello, new here but an obsessive lurker!
I wanted to ask for some advice: I recently did all my research and considered a LOT of asschers, and eventually purchased a 1-carat H/VS2. Before I bought it, I had it taken to an independent gemologist of my choosing, so he could report back on the stone's cut and light performance before I jumped. (I live outside the US.)
The gemologist, who was extremely helpful with all my questions, said in his report that although the table was slightly larger than usual (66%), the rest of the diamond was cut in such a way that it had excellent light performance, and that it was not glassy or shadowy in the middle, which I told him I was very keen to avoid.
It was then set into a beautiful rose gold solitaire ring, and is now in my possession. Just for context, the 30-day money back guarantee has passed, and the place I bought the stone -- A. Fishman & Son in New York -- does not have an upgrade policy.
Anyway, my issue is that while I really love the stone's size and faceting, and the way it flashes and sparkles in the more flattering lights, in some lights (outside on an overcast day, for example) it shows a dark area. Not like a dark ring; more like a cross I guess you could call it. Basically, the edges and corners and windmills stay glittery, I guess because they are the most faceted parts of an asscher, while the bits in between are very dark. These parts then light up in more flattering lighting.
I don't think it's obstruction as when I move it further away from my head it makes little to no difference. However, when I tilt the diamond slightly, the effect vanishes and those part go totally white and bright.
Is this normal, even for a well-cut asscher (which I was assured it was by an independent gemologist who was very familiar with the effect I wanted to avoid)? An I simply noticing a property that is inherent to the faceting of an asscher, well-cut or otherwise?
It's really making me question my choice of stone, but am I worrying unnecessarily? I guess if I knew this happened to others' asschers I would feel better, because I would know that's just part of the design.
The gemologist did say that it was not shadow-free, but that this was a good thing, as without any shadows it would appear "flat". However, it does concern me that in some lights the shadowing is concentrated in that cross shape, rather than evenly spaced out like a zebra crossing-type thing.
Anyway, any words of advice much appreciated!