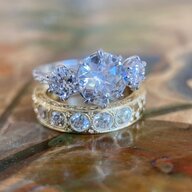 Joined

Jun 23, 2010
Messages

210
Back in 2010, I purchased my first pair of bezel diamond studs from
BGD
, which are .87tcw J VS1/SI1. I've worn them probably at least half of the time that I've owned them and still absolutely love them. However, DSS sunk in last year (and I have big earlobes), and being in NYC, I went to
ID Jewelry
to check out some earrings. Instead, I ended up purchasing a pair of 20 x 5-pointer diamond jackets from Tami (I never got around to posting them, bad PS member). That kept me happy for a while...
Last October, I gave birth to a beautiful baby daughter. I started to think, "Oh I should save my studs for her and get myself a new pair" (as if I really need an excuse). At first, I looked at
BGD
again to see if perhaps it made more sense to upgrade; but at the time, diamond prices were still pretty high for the size I wanted. So every other month or so, I'd check various sites but still couldn't pull the trigger. Before I realized it, my birthday and my very first Mother's Day were coming soon, so I started to look at earrings more seriously. I thought I had narrowed down the search to a pair of ~1.4tcw J VS2s from another PS vendor, but then I decided to visit
ID Jewelry
one afternoon to see what they could do. Do you see where this is going?
I get to the store and am greeted by the same crew that I've seen for years. I initially worked with Tami again, who was showing me some of their uncerted studs. Of course I wore my studs + jackets that day, so I tried on a pair of 1.5tcw and 2tcw earrings (love the size), but really wanted something with AGS or GIA certificates. So Yekeutiel takes over and asks me for the stats for my "dream earrings" (5+ carats? If only!) and starts a new search online.
He takes maybe 5 minutes or so to find 2 GIA-certed diamonds (.75 J VS2 and .77 I SI) and calls them in from different stores. While waiting for the stones, I asked about small studs (10-pointers) for my cartilage piercing. They had just made one for another client so I got to try it on - it was a good fit, so I kept it in the back of my mind. So the J stone arrive within 15 minutes, and he is immediately not happy with it because it is a brown-tinted diamond. The second stone arrives, and we both agree it's not a good match since the I is more of a yellow tint. He starts to search for a new mate to the .77 I and finds a .80 I SI, which was practically perfect for it. Of course we had to check the HCA before making any sort of decision (1.1 and 0.7)

The stones looked super fiery and definitely excellent cut; it was a no brainer to me. Within 30 minutes of getting to the store, I'm ordering a new pair of studs to be set into a low-profile 4 prong basket setting! Two days later, I'm wearing those earrings back to the office and put in another order for a 10-pointer stud for my other piercing, which I just picked up this past Monday. Had to wait a few days to be able to take decent pictures since the weather has been kinda meh in NY lately, but the sun finally came out this Friday - totally blingy "headlights". I took some shots of the new studs next to the older ones, with and without the jackets
Hope you all enjoy, I know I definitely am