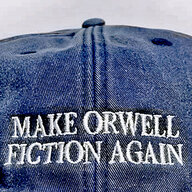 Joined

Apr 30, 2005
Messages

32,288
http://www.huffingtonpost.com/entry/oregon-ranchers-occupy-national-wildlife-refuge_56888a61e4b0b958f65be382
They don't like the outcome of a legal trial so they are taking the law into their own hands.
They are armed.
They have produced videos to recruit more 'patriots' from around the country asking them to join then and bring their guns.
They say they may be there for years.
So, how does this differ from terrorism?
Just imagine the public reaction if these guys were Muslims ... or black.

I just hope this doesn't end like the 1993 Waco Siege ... with a huge fire and 76 deaths.

Here is is a partial snip from the article ...
BURNS, Ore. (AP) — A protest in support of Oregon ranchers facing jail time for arson was followed by an occupation of a building at a national wildlife refuge led by members of a family previously involved in a showdown with the federal government.

Ammon Bundy — the son of Nevada rancher Cliven Bundy, who was involved in a standoff with the government over grazing rights — told The Oregonian on Saturday that he and two of his brothers were among a group of dozens of people occupying the headquarters of the Malheur National Wildlife Refuge.

Ammon Bundy posted a video on his Facebook page asking for militia members to come help him. He said "this is not a time to stand down.
It's a time to stand up and come to Harney County," where Burns is located.
Below the video is this statement: "(asterisk)(asterisk)ALL PATRIOTS ITS TIME TO STAND UP NOT STAND DOWN!!! WE NEED YOUR HELP!!! COME PREPARED."