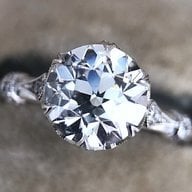 Joined

Feb 14, 2005
Messages

4,018
So last year I got an upgrade to a 1.43ct G SI1 AVC (
http://www.goodoldgold.com/diamond/6901/
). It is a beautiful stone, and it has been living in a temporary setting for a year (tapered Stuller Solstice). Here is the original thread with pics of it in it's old setting
https://www.pricescope.com/community/threads/my-gog-avc-upgrade-lots-of-pics.138460/
. Although I liked the temp setting, it was just that - temporary. I didn't think it set the stone off as nicely as it could be; the shank was thicker than I'd have liked, and it blended into the sides of the stone, making the stone look more elongated than it really is. Anyway - we were very fortunate this year to be able to move the stone to it's beautiful new permanent home - a modified Julia setting from Jewels by Erica Grace!
I highly recommend JbEG - I worked with Erica, and had a great experience. She is a true professional, and oh so nice! I just can't thank her enough for making this idea into a beautiful reality. I'm very happy with the workmanship on the ring, and I can't even describe how delicate it is in real life. And I think it makes the stone look bigger - bonus! The shank is so thin it makes the stone look like it is floating on my hand.
Erica took pictures and a video of it before she shipped it to me, and as I'm not sure if I can link to that, you can find it on their website under settings > plain and pave solitaires > The "Julia" solitaire featuring an AVC cushion. She took some great pics, and I love the video - I was so excited to see the final product before it even got to me!
Anyway - I took lots of pics (more to show off the setting than the stone, as we all know what AVC's look like)... but I snuck a few in there.
I'll split the pics into groups of 4 for easier uploading and viewing. Enjoy!