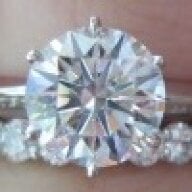 Joined

Jan 29, 2007
Messages

5,497
I just had to post about the curious phenomenon I have experienced since having baby Connor 3 and a half months ago. The only people who stop to compliment him are men. Old men, young men, black men, white men, a biker, a businessman, men with kids/grandkids and without. It's just so weird, because not a single woman has stopped me to comment on him, but men have stopped me on the street, in restaurants and while shopping to comment on how cute they think he is.
It's so funny to me because my older son, Andrew, was definitely the more "tradionallly beautiful" baby. He had pale pink skin, curly blond hair, and turquoise blue eyes. I was constantly getting stopped by women who thought his eyes and features were so striking. Also, I couldn't bear to cut those gorgeous blond curls, so everyone thought he was a girl until he turned 3 - even though I would always dress him in "boy" colors, with trucks & footballs and things on the clothes.
I just think it's so funny that my huge, fat, burly, dark, greasy & hairy baby Connor is so attractice to men - I figure that he must be "a man's baby," since he's so masculine looking, as opposed to his delicate older brother. Despite his hairiness issues, he does have a killer smile. (Seriously, this baby has black hair growing on his earlobes and down his back - we think it's hilariously appropriate that we named him Connor, which means "kin of wolves.")
Has anyone else experienced a similar phenomenon, especially if you have two kids who look very different from each other? I guess I just never realized that men liked babies so much - who knew?