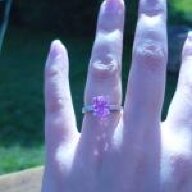 Joined

Apr 2, 2011
Messages

203
I'M ENGAGED!!!!
It was the 4th day into our trip and I was having breakfast in front of the fireplace while BF (now FIANCE) was watching the weather channel. He seemed pretty disappointed that there was no snow and I made a flippant remark about how the proposal will be delayed (he has always said he needed snow to propose). I don't even know how he did it, one minute he was standing in front of the TV sans ring, the next minute he was down on one knee with the ring box in his hand
I had an OMG moment and I can't remember the exact words he said, but it was something along the lines of whether I'd make him the happiest man by marrying him


The proposal was very low key. There were no fireworks, no skywriting, no fanfare. But I wouldn't have wanted it any other way because the look on his face when he asked me to marry him is something I'll always remember and I like that it was just us (and our dog) during that very private moment. We called our parents and texted friends and celebrated with champagne after. He had already asked Dad for his blessing several months ago, but Mum was still over the moon when the engagement became 'official'.
And now the pics....I said to him from the start that I didn't want a traditional diamond ring, I wanted something that was different and would stand out in the crowd. We ended up with a beautiful 2.02c (an upgrade from the original stone we had picked) pink oval sapphire and had it set in a 2mm platinum band with pave diamonds. I still can't stop staring at it and it's been almost 2 weeks!



I'm not the most creative person so I haven't taken any shots of the ring in flowers/food/creative PS-type photos, also the photos definitely don't do the ring justice!
Enjoy