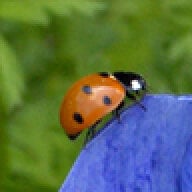 Joined

Jul 26, 2004
Messages

1,757
Cushions are very popular right now and many people have come to PS to get help in finding one. Unfortunately, there are many different cuts that can be called "cushion." It can be confusing to decide what one wants and frustrating to find it, especially when a cert. doesn't give a clear idea of what a stone will look like. So, I tried to compile some of the more common "cushion" plots and pictures that I have come across in my own cushion quest. Yes, I know that the plot on a cert does not neccessarily match the stone, but it does seem that there is usually a correlation (excepting L:W, which is never the same!). I also know there are plenty more kinds of cushions out there, but I thought this was a start.
The plots I'm posting are mostly from GIA certs (except where noted) and most of them actually "belong" to the stone they are pictured with. Some of the pics aren't great, so if you have a better one, please post it with its plot!
I'll try to post a few others that I couldn't find pics for, (or pics with no plots) and if you guys can send me one, I'll edit or repost so they go together. MMM would you please post the plot from your stone(s) with a good pic? Any one else have something different?
ETA: I think this should just be callled a "Cushion Brilliant." opps!