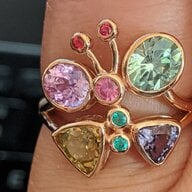 Joined

May 13, 2018
Messages

4,890
Been too busy to spend much time on PS lately, but I am totally looking forward to this project and thought it too good not to share. Since I got a rare Loliondo emerald cut garnet (clean without sugary inclusions!) from Mike at Gran Gem, I have been thinking to set it with emeralds. At some point, I wanted top grade emeralds that were duck neck green, and the idea of a Mandarin (garnet) duck (emerald) project just became fixed in my head. You see, in East Asian cultures, Mandarin ducks are a symbol of love and marital bliss, and I coveted the idea as an expression of my love for my dear fiance and wanted to express my hope for our future together. I wanted to get colors that are reminiscent of the colorings on the actual duck species. Luckily for me, they are very colorful.
Without further ado, the stones, who are going to be the stars of this show.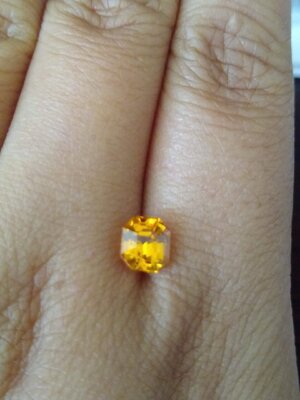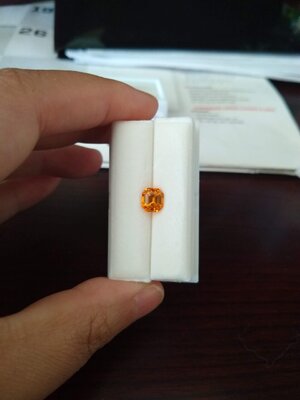 The spess aka Mandarin garnet.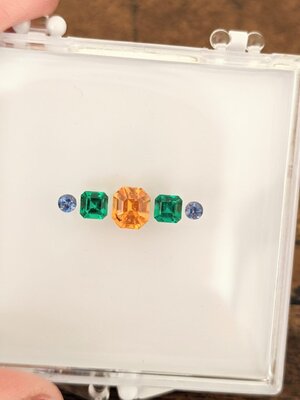 With a pair of wonderful emeralds from Afghanistan sourced by Inken (Enhoerning Jewelry), and a pair of benitoites sourced by Yvonne (Cecile Raley Designs). All of these gems are rare to me, the Mandarin garnet for the clean crystal and the rare cut, and the side stones for the rarity and very fine color. The benitoites are for the blue in the Mandarin duck and a nod to the fact that I'm a California girl at heart.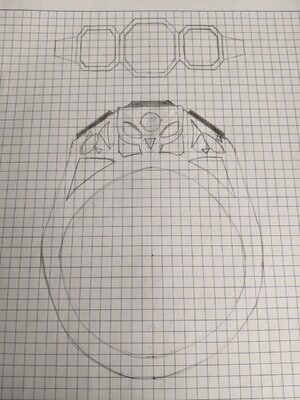 Here's my original sketch before we had the actual sidestones. I wanted cutouts of fish both because it's in the duck theme, but also because my fiance is Pisces.
At this stage, I have decided to add four diamonds and make this a nine-stone.
Here's the CAD rendering that I've approved for casting, in 18k rose gold.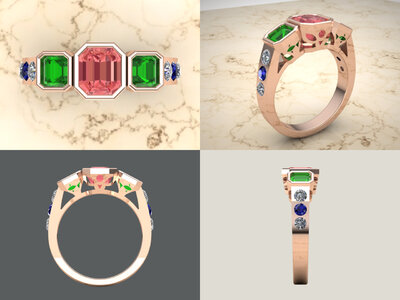 Center three gems are bezel for a cleaner look. The sidestones on the shank will be set bright cut pave, similar to how it was done on my crown ring.
I have the option of going for hand engraving with some kind of water motif. That would be really sweet if it doesn't look overdone and overelaborate.