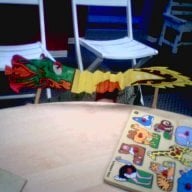 Joined

Feb 26, 2003
Messages

1,555
AGBF has kindly requested an update on the status of our bun in the oven.
Everything is going fine, except my wife is hoping that this is finally a girl and it doesn''t have one of those big noggins my family is famous for.

Now, for those who like details, a wee bit about me:
I found the diamond forum world about two and one-half years ago when we were expecting our third child. I decided with our first that the requisite gift for child bearing is jewelry. I don''t know why. Maybe it is jewelry''s timelessness. Maybe it''s the fact that a new tires for the car don''t say "Thanks sweetie, I love you." quite like diamonds.
Anyway, the first kid brought a set of Tiffany earrings (good move). The second, a weighty gold necklace (not such a good move). While she was pregnant with the third, she lost the diamond out of her engagement ring. It was not her fault and she was crushed. After visiting about a dozen places in town, I realized that I was not finding what I wanted (in terms of color and clarity) and so I turned to the ''net. I ended up getting a great stone at a great price and, in the mean time, morphed into a diamond geek. Along the way I have "met" a lot of people and traded laughs and barbs with a host of characters. I have been educated about gemstones, politics, and literature - all in diamond forums.
Now we are in month 8 and counting. A fourth boy would be a blessing to be sure, but my wife would really like a girl (to whom she can pass on all this great jewelry). Anyway, I am looking for ideas for the birth gift. Up until now, my wife has had no say in the selections, but that may change with this one. I have so much fun picking things out that I figure it will be that much more fun together. I''m leaning toward something with the theme of four. Maybe a ring with four gemstones. Maybe a bracelet with four opals. Maybe maybe maybe. So many choices. There is a local jeweler I''d like to work with and though he''s the owner of a rather snooty shop, he''s a benchman by trade and is excited about creating a custom piece for us. I''m choking a little on paying high retail...but it''s only money.
Thanks for asking!

R/A