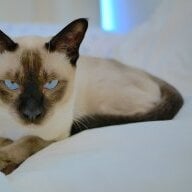 Joined

May 11, 2012
Messages

9,785
Drop dead gorgeous genuine Art Deco handmade Platinum Bracelet with an estimated 3.50 carats of well cut white facing G to I in coloured diamonds all SI or better in clarity and around 4.50 carats of untreated Columbian Emeralds. Over 8 carats in total in stones. 7 inches in length.
Has been worn by me to one red carpet event, two formal events and one other time, but is now surplus to my needs as I wish to buy something else.
Really rare piece and sure to get attention, much more interesting and I think prettier to look at than a plain diamond bracelet, it always got gasps and compliments from everyone that has ever seen it. It is fairly unusual that the metal is all Platinum and hand made with a truly beautiful ornate pattern carved in the side of it and super fine milgrain work along the top and it has a small safety chain at the back.
The bracelet was damaged from general age when I purchased it, me being me I wanted to restore it.... I spent more than a small fortune at Singlestone replacing the tip piece of Emerald in the main panel, and strengthening a few of the hinge joints and making sure all the diamonds are secure in the two main panels, so that it was and is really wearable.
Visually on the wrist the repaired emerald shape looks like part of the original bracelet and there is a small chip mark in the top of the main emerald from the original damage that does not pose any issues from wear, ie I have worn it and it is not going to damage further, again this does not stand out when the bracelet is worn. I had it assessed to re-polish it out and every jeweller (I had several look at it) all agreed it posed no threat and was better left and loved as is.
Was $7975.00, now $7150.0) ono. Will consider reasonable offers. Asking price is far less than what I paid for the bracelet and all the work Singlestone did on it.
Without the slight damage which I put down to age and general wear, the bracelet would be twice the asking price in any of the main Antique jewellery dealers. The bracelet could not be replicated for the asking price because it has been handmade in platinum using high quality and very beautiful stones.
I think the piece is even better in real life than Grace's photos, because the emeralds are a lovely shade of green that is hard to capture, please direct all enquiries and offers to Grace at Jewels by Grace. Or if you have questions about the bracelet itself I am happy to answer your questions, you can find me under the same name on LT.
Link;
https://jewelsbygrace.smugmug.com/Bracelets-and-Vintage-Watches/Art-Deco-Old-European-Cut/
Link;
http://www.loupetroop.com/listings/bracelets/art-deco-oec-diamond-and-emerald-platinum-bracelet