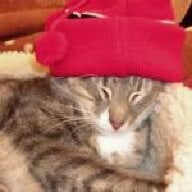 Joined

Aug 14, 2009
Messages

22,555
LT:
https://loupetroop.com/listings/loose-stones/8-dot-5-9mm-blue-round-akoya-japanese-madama-quality
I purchased a card of round blue akoya from Takahashi recently, for studs for myself and a few friends. I've got four pearls left over. Any interest?
These pearls were purchased as Madama equivalent quality (but cheaper than certified pearls because no PSL cost). Since I happen to own several certified Madama pearls, I have included comparison photos. Surfaces on all four of these are smooth, lustrous, and 99% unblemished (any blemishes have no impact on appearance at all) - they easily match or exceed quality of my certified Madama. All four show nice "metallic" iridescence with pink overtone.
The pearls may not look round in all photos - camera lens vignetting. They're all round in-person, verified using calipers.
Pearls #3 and #4 are a very nice matched pair. These pearls measure 8.52mm and 8.57mm in diameter. The colour on these is clearly less "blue", more "silvery" - these are beautiful silver neutrals, in my opinion.
Pearl #1 has a strong blue body and bright iridescence, and measures 8.70mm in diameter. Pearl #2 also has a blue body, but less strongly coloured than #1, and #2 also has both pink and green overtones. These pearls are more colourful than #3 and #4, but I'm harder than vendors on matching - I'd call this a 3/4 match. They certainly would look "matched" on the ears with a head in-between, but side by side the observant will note body and overtone colour differences. My photos reflect what I see in-person.
Pearls are half-drilled (0.8mm) and ready for mounting as earrings or pendants. Drilling was done correctly, no issues, and any vendor that deals in pearls will be able to full-drill if desired. These four pearls have never been mounted and are in brand new condition.
Last edited: