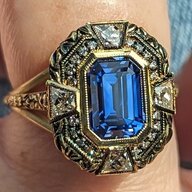 Joined

Jan 26, 2018
Messages

155
Let me just start by saying, I've been here about a year and I love this site. AND… I LOVE this ring! It's not anything I would have even thought about buying a year ago. But I am learning my likes and dislikes on here, and I thank you all!
If you don't want to read the whole, long tale, and just scroll down to the pictures, I completely understand. The short story is, I have this BEAUTIFUL new .72 W-X color SI1 asscher (faint fluorescence) from B2C Jewels in a LOVELY white gold halo setting from Ivy & Rose to stare at and adore. And I am just a teeny bit excited.
Long Story:
Last November, immediately after I bought my little spunky diamond pendant from BGD, I kept looking at stones. (Because, of course, I did!) Particularly, I was searching for a .5 carat asscher. My ER (from which I hope to never be parted) is an asscher, as are my studs, and I thought I might not be able to wear my cute little new round pendant with them. (That was some majorly wrong thinking on my part. That baby super ideal goes with EVERYTHING.) But, anywho, I always get a little bit of mad money for my birthday and then Christmas, and I thought I might put it with a little more and buy my first loose diamond, then set it after the new year.
The Stone:
While looking, I ran across this .72 W-X Asscher that had somehow made its way into B2C Jewels virtual inventory. I think it was mislabeled an M or something, but the GIA report said W-X, and they told me it was a W-X when I chatted with them. It was priced significantly lower than the half carat stones, and I was dying for one of these low color diamonds. There were no pictures, the vendor overseas was on holiday, and it was an SI1, but I waited until the vendor returned, and when I got the pictures and ASET, I LOVED the color! I mean, LOVED it. The cut, I could tell, was not ideal, by Pricescope standards. (Please don't hate me for loving it anyway, because I did and I do!) I wanted to see it in person.
Still, it was an SI1 asscher. My ER is an VVS2. Could it really be eye clean? (I mean, those step cuts, y'all…) But, it took me a while to even find the "feather" inclusion in any of the images. So, I bought it, and had it shipped to B2C Jewels. They examined it and said it was indeed eye clean.
B2C was so incredibly nice and helpful. They walked me through the whole process. And a shout out to Amy there, who was terrific. They have a good return policy and, at every stage, I promise, I planned to return it if it wasn't eye clean or if my heart didn't do flip flops when I saw it.
It turns out, my heart did do flip flops. When I first opened it and saw it, I let out that "ahhhh" sigh. My fabulous little W-X asscher! And the feather was only visible to me when the diamond was upside down.
Then came the big question: what to do with it? Originally, it was definitely going to be a pendant. But as much as I love my little BGD pendant, I don't get to see it nearly enough! Just when I look in the mirror or when I take it off at night. Plus, the color was WAY different than my ER and studs. So, my hubby suggested a right hand halo ring with whiter diamonds around the W-X to bring out the color.
I searched Pricescope and found
@Asscherhalo_lover
's ring. It was EXACTLY what I envisioned. But I didn't want to spend 3 times as much on the setting as I'd spent on the stone.
The Setting:
This point in the story is where Pricescope becomes pure magic. I was searching for affordable settings (as in, a halo less than $500 affordable) and I stumbled across the name Ivy & Rose on here. When I looked at their Etsy page, I found the setting – THE setting! – right before Christmas. Every time I looked at it, it made me smile, and reminded me of the inspiration ring! The dimensions were a perfect fit for my stone, and it was under $500 for the setting AND to have the stone set.
See? What did I tell you! Pure Pricescope magic!
Sara at Ivy & Rose via Etsy took such good care of me. I could not have been more pleased. She was so responsive and patient and answered all of my questions. The most agonizing period was the solid week it took my stone to get there via registered mail. (My goodness!) Sara said my ring would take up to three weeks to complete, but a week and a half after Ivy & Rose got the stone, she messaged me that it was ready and sent me a pic! The next day, it was on my hand.
The Ring:
Oh my goodness! I can't believe I own this ring! It is so much prettier and BLINGIER than I expected! It is quite substantial looking, and the detail on the Ivy & Rose setting is to die for. The tiny diamonds are bright and sparkly. And my hubby and I both love how the asscher sits up higher than the rest of the ring. It looks so much different (and bigger!) than my .91 carat solitaire ER! (I told him he could have proposed with this ring and I would have totally said yes, even though it cost about a 1/4 as much! Ha!) I am so MADLY in love with it!
It sparkles like CRAZY in recessed lighting. If people notice a hand, it will probably be my right one! This asscher throws off big rainbow flashes, and the .12 ctw of melee is white and fiery. I spent the first hour after I got it just wandering around my house, going into different rooms and staring at it! I'm lucky I didn't walk into a wall!
And can I just mention the prongs? I mean, the double prongs are just dynamite. I never looked at prongs, really, before Pricescope, but I love these.
So, what about the color? Is the W-X REALLY yellow? Could it be mistaken for a fancy light yellow? Eh… Maybe. In some lighting, it looks pretty doggone "lemony" yellow. In other lighting, though, it just looks like more of a cream color. Sometimes, just a really light pale yellow. Sometimes, a champagne color almost. Verdict: I love it under ANY source! The color was what drew me to this stone in the first place, and now I am just enchanted with it all over again.
Conclusion:
I had not planned on an asscher right hand ring. In fact, I'm currently saving for a starter ACA to put there. And who needs two stones the same shape and relatively the same size? But I say, get what you love and what makes your heart happy. And asschers - and this ring, in particular - just make me all kinds of happy. I used money from my parents and my in-laws to pay for most of it, so it will always be very special to me.
Thanks for letting me share! Here are some pics! I tried to take some in various lighting to show color differences. No outside shots yet because it is so rainy!
Specs:
.72 W-X SI1 Asscher (faint fluorescence) from B2C Jewels in white gold Ivy & Rose semi-mount with .12 ctw of G-H SI diamonds. Size 6.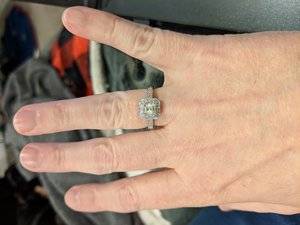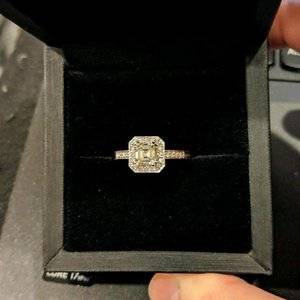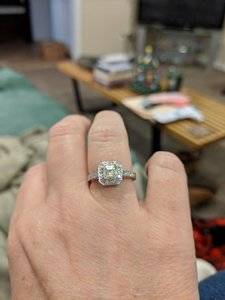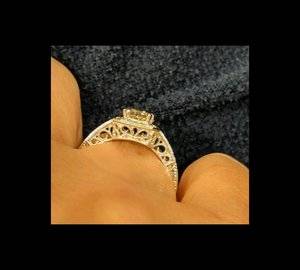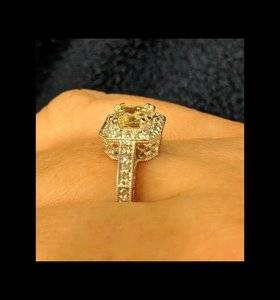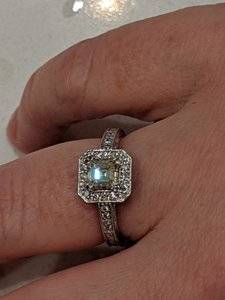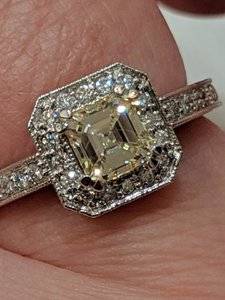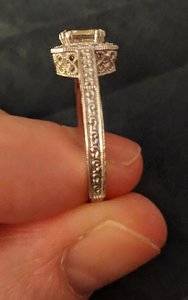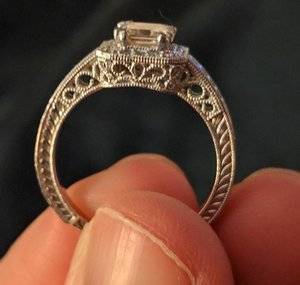 Last edited: