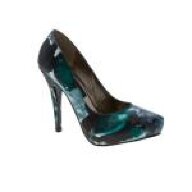 Joined

Apr 9, 2011
Messages

47
Hi Ladies!!! I am so excited to share that my SO (now FI!!!) proposed tonight!! It's been a crazy whirlwind and I have no pictures yet so hopefully the story will tide everyone over until I have a chance to upload some pics!

So I knew that the ring was being made and I knew it was supposed to be finished about 2 weeks ago but that it was not yet ready (it was being custom made). I was sure that when SO got the OK to pick it up I would somehow know either because he would accidentally say something about it or that I would just have a feeling.

SO does some work in the film industry and we are in Toronto and he told me that his friend had this invitation to a TIFF (toronto international film festival) party. (I am so outta the loop I didn't even piece together that TIFF ended like 3 days ago). Nevertheless I worked all day and even was running late because I was "on call" for the day and had to deal with something so last minute that I brought my work computer home with me because I was antsy about waiting 5 minutes for someone to do something before I could complete my task.

I got all dressed up in this dress I bought this summer and have been DYING to wear but that really is difficult to wear anywhere in real life with a new pair of fancy shoes I had also been waiting to wear and FI(!!) picked me up. I was sitting all dressed up finishing this work thing and finally was ready to go but the weather here was very rainy and I didn't want to ruin my new shoes so I decided I would wear my rainboots and change when we got to the restaurant before I got out of the car. SO's sister called asking us to make a stop on the way (his sisters were supposed to be going to this party too) so we did and I told SO I would wait in the car. He wanted me to go with him but I was in a dress in boots and really didn't feel like moving when he would only be gone for 1 minute. SO went inside and came back out to get me again saying he needed my help. I VERY reluctantly went in thinking he was being silly and being slightly annoyed and we walked in to the room (it is a ballroom - his sister had claimed to have forgotten her purse there and it is where we first met at a party) and there was a bar set up and a table for 2 and FI got down on one knee and asked me to marry him and I said "but I'm wearing my rain boots!" lol. I said yes and FI said something else that had me saying no and was like no BUT yes and it was very confusing and funny. SO had the song from the wedding singer about growing old together playing in the background (sentimental song to us) and then we broke out the champagne and his sisters came out and took some pictures. FI also had a camera set up to get the whole thing on video.

After that we went to the CN Tower for dinner and there were flowers waiting for me with a super sweet card and SO said lots of sweet things about why he loves me etc... He had been so concerned about planning everything that he didn't plan what he was going to say so much but everything important was said in the end!!

Sorry for the novel!!! Super excited and amazed at how quickly news travels. There were a few people we wanted to hear the news directly from us so we made those calls and sent those texts and then the messages started flooding in!!

Pics to come soon!