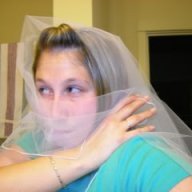 Joined

May 7, 2006
Messages

313
1Quite frankly im a wee bit worried! our wedding date is October 13th. we''ve looked at a few venues but havent booked anything we know who we want to cater it but haven''t booked that either! so far the only thing thats been done is buying my dress and music/dj!
Other than my FI no one has offered to help us with anything! no one! im not talking money wise either just help with getting stuff done ect!
we recently relocated to WA for work but were getting married in sunny San Diego CA where were both from! why is it that no one has even asked if they should help?? not even my maid of honor! im sorta fed up!
We have a wedding planner too but she just gave birth to a baby and I don''t want to be a bridezilla ! At this point I dont even know what to do! like where to start!
you lovely ladies are always so kind please direct me on the right path! thank you!
Im so lost and in a funk about all this!!!