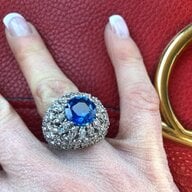 Joined

Dec 25, 2019
Messages

327
Hi All,
So I'm clearly obsessed with sapphires lately.
Unheated is my next quest.
I am very interested in this 6 carat antique unheated sapphire.
It's from Thailand.
GIA certified no heat.
Brilliant cut with a step cut pavilion.
I am a huge fan of the darker navy color so that's not my question.
What I would like your input on is the tilt window.
Is this acceptable?'
I see it sometimes. Then other times not at all.
I will say it's a very clean fat-bottomed stone that shoots off fantastic shards of blue in different light. I love everything about it but am just needing PS expert input on the ability to see my hand through the stone at certain angles.