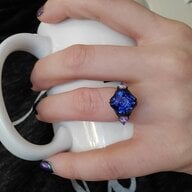 Joined

Jan 4, 2012
Messages

948
In true PS fashion, I went a completely different direction than initially planned.
My spouse and I celebrated our 10 year wedding anniversary this summer, and I was given the go ahead to find the lab diamond I wanted for my 10 year anniversary ring. There was one I fell in love with last year that we were not in a position to purchase at the time, and it is "the one that got away". Fast forward and while reviewing a curated list of options from a trusted vendor, "my" diamond showed up again! Initially the vendor said they could get it for me, but after a week or so the distrubutor informed us it had sold long ago. I was crushed, decided to give myself a few weeks to deal with the disappointment and some family issues that had arisen. Then it popped up again on another website, but they were charging twice what the first vendor quoted me, not to mention this is a retailer we strongly discourage people from. Regardless, I tried to set up an appointment to see the diamond in person, but they wanted 50% down to "prevent it from selling", insisting that was the only way to put a hold on a diamond to be brought in. I did find "my" diamond for sale for a few thousand less on another website, but by now, I'm frustrated, emotionally I'm drained from the hope-bust cycle as well as personal family issues, and decided "Forget it, I'll get something else I've wanted for ages that is much less expensive, and save the extra funds to take my brother and his kids to Disneyland next year!"
So that is how I ended up contacting Gary at Finewater Gems, requesting a quote for a made-to-order 9mm asscher cut royal blue lab sapphire. He was so kind, prompt with communication, and had the sapphire done in 6 days from payment. I was out of town when it was completed and he was kind enough to hold on to it and overnight shipped it to me upon my return.
Historically, I've had less luck with colored gemstones of any variety, as they never seem to look the same in person as they do in vendor photos/videos, but Gary seems to be very accurate based on pictures I've seen shared here, and I'm pleased to report that my sapphire does indeed match the color of his photos. It changes in different lighting of course, but any light catches that gorgeous blue.
Now though, I have a 6.34 ct, 9mm sapphire that I was mentally unprepared to set. First, some photos of the stone, then some ideas I have.