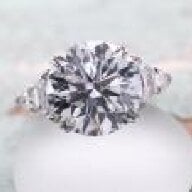 Joined

Sep 18, 2015
Messages

165
Hi all,
I am considering an MRB with the following specs:
3 carat H SI1 (9.5 mm)
GIA Ex Ex Ex
Table 56
Depth 61.2
CA: 34
PA: 40.8
Girdle: med-slightly thick (3.5%)
Lower halves 80%, 45% stars
HCA = 1.0 (TIC)
The main inclusions are a series of twinning wisps across the table which look scary on the cert but I'm told they cannot be seen without a loupe. (I will have to judge for myself, obviously.)
The vendor I'm working with does not use ASET or IS but is shipping the diamond to me for inspection so I can decide whether to purchase. (I know other vendors do offer these images but this vendor has been quite good to me, which is why I'm using him.) I do not own an IS or ASET. If you were me, would you purchase one for the purpose of looking at this one stone? I know there's no guarantee of light performance without one, but would I be at least relatively safe on the numbers alone?
If you think I should consider purchasing one, is there someone who would be so kind as to help me figure out which I should get? I see there's a beginner scope, a beginner kit with light, etc, an expert scope - I have no idea what I'd need and since I'm new to IS it's hard to tell from the website.
Any input would be very much appreciated. Thanks!