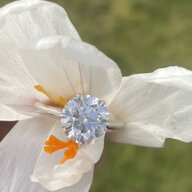 Joined

Aug 13, 2020
Messages

185
Hi all
I've been racking up the MMD projects - many of them which are yet to be set (watch this space later in the year). But I wanted to start by sharing the latest acquisition, my 3.23ct, I colour, ideal cut (according to certification), VS1 clarity CVD diamond. Let's call her Margret.
Margret is everything I wanted in a big modern round diamond. She's slightly lower colour, which I'm partial to, and a sparkle bomb. As she's an I colour, you can't expect icy white and I didn't. However, considering this, I think her cut disguises a multitude of colour face-up in my opinion. There is some ivory/yellow from the side view as expected.
She scored a 1.2 on the HCA, within TIC range, with true hearts and arrows (this seems to be a designation on more recent reports). Her stats are as follows:
Measurements: 9.45-9.50 x 5.83mm
Table size: 57.5%
Crown height: 15% - 35°
Pavillion depth: 43% - 40.7°
Total depth: 61.6%
I purchased the diamond and setting, which is a simple platinum six-claw-prong, from Fiorese Jewellery. This purchase was made after doing a few projects with them. Their prices are very, very fair.
Now for some pictures, taken in English afternoon sun on my giant size 7.75 finger, so bear with me: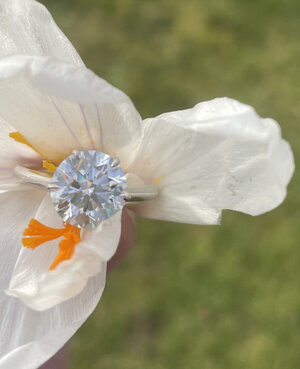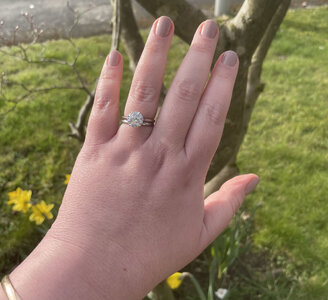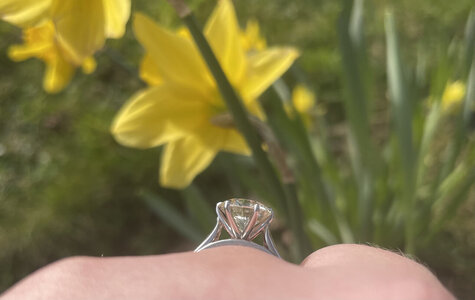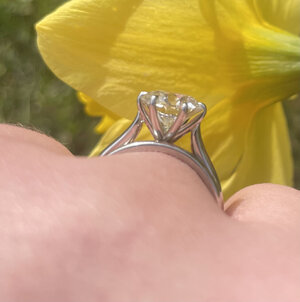 Last thoughts:
Margret is not in her forever home. I'm not sure what that will be, but I wanted to enjoy her in the meantime.
Love whatever you choose. Not all diamonds are perfect, but they can be perfect for you.
Last edited by a moderator: