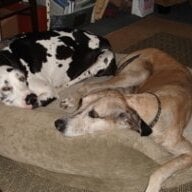 Joined

Jul 26, 2004
Messages

1,602
So, if someone gave you 200.00 to spend on yourself right now, what would you buy?
jeans, perfume?

Let me explain:

We''re a little poor right now, just bought a house, paying off old debt (almost paid off, though, yah!)
I teach in a low paying charter school for refugee children (got to do it for the love, not the paycheck...)

We were just given 500.00 to spend on ourselves. The realistic and needy couple that we are, we decided to get
my car tuned up (it''s a 97, so we were worried that it might be a costly tune up) and hurray hurray, the tune up
was minor... less than a hundred dollars!

So, I suggested we split the remaining 400 and go on a guilt free shopping trip.
There are tons of things that we NEED (we just bought a beautiful CandB dining room table, but cannot afford the chairs...)
so we could probably chip in a bit more money and buy a chair apiece... but that''s a bit practical for my liking right now,
I wanted this to be fun money, since it came from no where, and we''re sure to get the chairs eventually.

So what would you buy? 200.00 doesn''t really go very far these days, but to me it seems like a lot. I kind of want to buy
something that I would feel too guilty to buy at any other time.

I''m probably a bit out of date on the fashion scene (as I learned when TravelingGal was purse shopping, lol!)
All my jeans come from Old Navy. Most of my clothes come from JCrew. My husband laughed and said that I''d probably buy
a few things at JCrew that look exactly like everything else I wear.

I''m tempted to look into a NICE pair of jeans, I''ve never ever even dared to try on a pair.

Thoughts suggestions? Hurry, before I get practical and put it towards groceries.