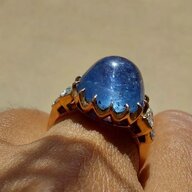 Joined

Jan 13, 2010
Messages

1,780
So, of course I'm going to get all googly eyed over this.

It's all the things!

Hot pink, oec's, three stone, eight prong

and

it's an antique. The only thing that could make me freak out more is if you said 'It's a spinel' then, I might pass out.

Happy anniversary!
Thanks for bringing my attention to the 8 prongs! I loved it but couldn't put my finger on why! I thought there were 6 but you are right - 8!!!!!
I am a sapphire nut - I would pick it over spinel any day and I think it is because I prefer glow over sparkle? I used lto have a really pretty hot pink spinel. I am so glad we all like different things - gems for everyone!